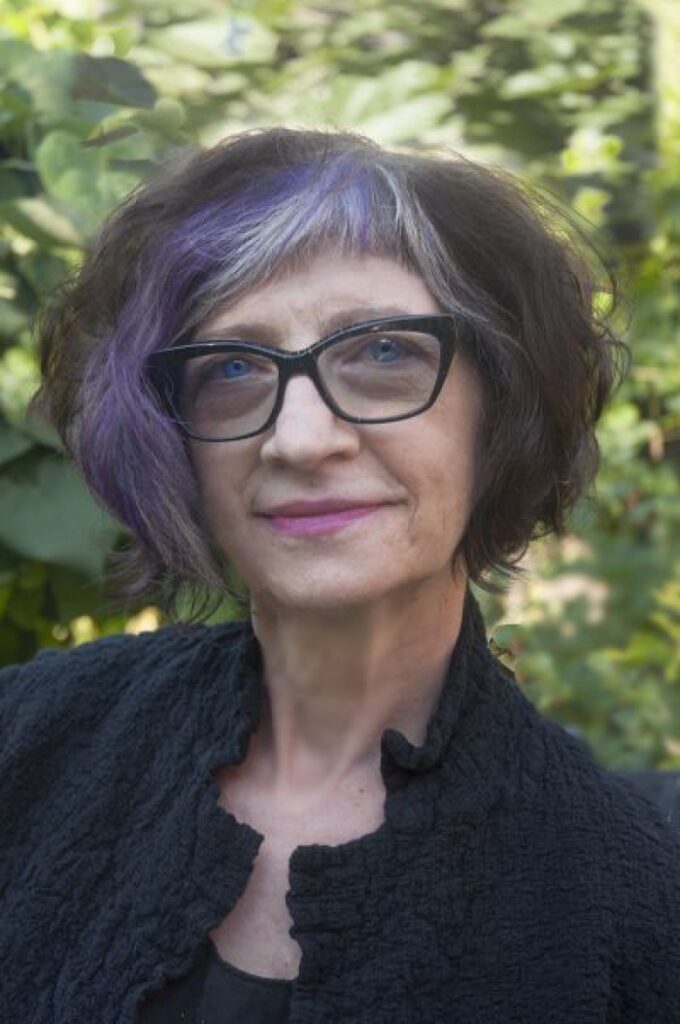 Jody Berland is a professor of humanities at York University in Toronto.  Her research and teaching involve interdisciplinary explorations of technologically mediated encounters with music, time and space, animals, and nature. Her latest book, Virtual Menageries: Animals as Mediators in Network Cultures (MIT Press and Leonardo Books, 2019), addresses the widespread use of animals as emissaries in colonial and contemporary visual, digital and musical culture. Her book North of Empire: Cultural Technologies and the Production of Space (Duke University Press, 2009) won the G. Robinson Book Prize from the Canadian Communication Association.  She has edited a number of books, journals, and journal special issues and is the former editor of TOPIA: Canadian Journal of Cultural Studies.                                                                                  
Berland has worked as Visiting Professor, Centre for Human Animal Studies, Edge Hill University, UK; Research Fellow, Media and Communications, Goldsmiths, University of London; Visiting Scholar, Tisch School of the Arts, NYU; Visiting Associate Professor, Centre for Education, Culture and Identity, University of British Columbia; Inaugural Visiting Scholar, Centre for Cultural and Media Policy, Griffith and Queensland University, Brisbane;  Visiting Associate Professor, Media Studies, Edith Cowan University, Perth, Australia; and Writer in Residence, Leighton Colony, Banff Centre for Fine Arts.
She is Principal Investigator of the SSHRC funded multidisciplinary research project, "Digital Animalities: Media Representations of Nonhuman Life in the Age of Risk." The exhibition "Digital Animalities," curated by Giovanni Aloi and Matthew Brower, was held in Toronto in 2019. The exhibition catalogue is forthcoming with Public.  The collaborative book arising from the project is presently en route to book publication with co-editor Thomas Lamarre. You can learn more about this project at digitalanimalities.org. 
Berland has served as VP of the Canadian Association of Learned Journals, senior associate faculty with the Robarts Centre for Canadian Studies, occasional board member for the International Society for the Study of Popular Music (IASPM) and the Association of Cultural Studies (ACS), and Communications Officer of the York University Faculty Association.  She is a founding member of the YUFA Climate Emergency Committee (YCEC) and co-chair of the YCEC Curriculum Committee. 
Berland's work has been read and cited in numerous countries and languages.  For more about her published research, see this website and https://yorku.academia.edu/JodyBerland for access to published research and reviews of her books.  Her latest publication addresses the role of robotic pets in mediating the world of childhood and the spaces of social media; "Playing with Pets, Playing with Machines, Playing with Futures" is forthcoming in Children, Youth and Social Media, edited by Stephen Gennaro and Blair Miller, with Vernon Press.
Berland has supervised many student theses and dissertations through graduate programs at York University, and worked with students on numerous research, editorial, and creative projects.  She is active on social media through digitalanimalities.org; TAB: Take Academia Back! (FB), Twitter, and other sites. The rest of the time she plays the piano, walks the dog, and takes time off from worrying about the future of the planet by planting things and baking cakes.